So, I don't know how you all are weathering the Coronavirus situation — first and foremost, I hope you're all well and safe — but being without football has been driving me into an advanced state of insanity masked by cabin fever.
The only way I have figured out how to cope with this is by watching, and re-watching, and re-re-watching this season's Celtic games, thanks to Celtic TV.
On this note, Celtic TV has been the best $28 per month I have ever spent. I can watch (and re-watch) all the games I want this season, and there are a lot of feature shows that they also throw in (like this interview with fellow Californian Cameron Harper here). So again, they don't pay me to pitch it, but I am Celtic TV's biggest fan.
In watching the season again so far, where we're 13 points up in first place and 25 or so ahead in the goal difference, and while ignoring the tsunami of statements from Glasgow's other club as the sun sets on them, I have a few observations about this season that bear mentioning. Like . . .
Celtic's Mr. Indispensable
I know what you're thinking: Mr. Indispensable? Got to be Broony. No, maybe it's Odsonne Edouard. Wait, it's Fraser Forster, definitely.
Nope, though all of those players are vital parts that make the Celtic machine hum in all gears. But the player we really can't do without is Callum McGregor. While The Celtic Noise's Sandman, in his game ratings, has likened him to a metronome (and I assume he means that in a good way), CalMac has been nothing short of perfect in the midfield this season, providing an outlet to those who have been shut down on the wing, and distributing the ball with aplomb. He also is not shy about taking a shot when he sees fit.
This epiphany regarding CalMac came at the end of the Lazio game in Rome. If you watch the replay of Olivier Ntcham's Rome-conquering goal, BT Sports (sorry, Celtic TV) shows a wide-angle view of the field after Edouard intercepted the errant pass and started downfield. You can see in the background both Scott Brown and Callum McGregor advancing, but who is sprinting forward, essentially catching up to Odsonne before he passes to Ntcham? Sprinting after 94 minutes of game time?

Callum McGregor, head still in the game, still ready to contribute.
It's that kind of never-say-die play that makes CalMac indispensable, game after game, season after season. If anything, it boosts his chances on being Player of the Year again this year, if the votes go his way.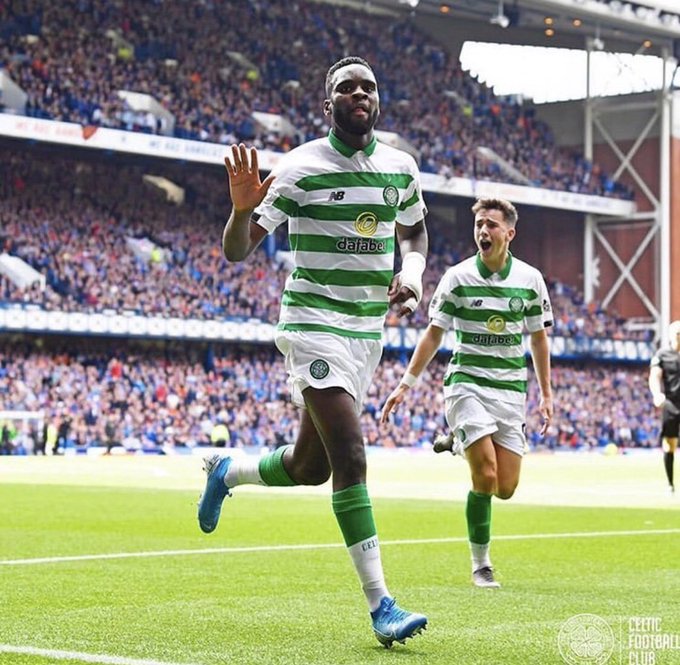 Speaking of the POTY vote . . .
You still have a chance to vote for the Triple Crown of Celtic greatness in the Player of the Year Awards, which is broken down into three categories: Player of the Year, Goal of the Year, and Young Player of the Year.
How did I vote? Glad you asked.
Player of the Year: Despite singing Callum McGregor's praises a few paragraphs ago, I opted for Odsonne Edouard for Player of the Year. French Eddy rises head and shoulders above all other strikers in Scotland, not to mention many in Europe as his exploits in the U21 for France has shown. Hands down, Player of the Year for the Hoops. Also completely worthy of your vote: McGregor, Ryan Christie, Fraser Forster, Leigh Griffiths.
Goal of the Year: There are a lot of options here, and with a team as great as Celtic, there are a lot of fantastic goals to choose from. But you have to go with Olivier Ntcham's goal at Nazio — sorry, Lazio — to win the game in Rome. For historical value, this goal is light-years ahead of the rest. But if you must vote for another, Griffith's goal against St. Mirren, Edouard's goal against Rangers, or Ntcham's goal against Partick Thistle from about 10 miles out — OK, it was "only" about 35 yards — are also worthy. Actually ALL of the nominated goals are worthy, so it's your choice.
Young Player of the Year: Oh my days! There's no other choice here but to vote for Jeremie Frimpong. Funny thing: Tom Boyd was talking in a post-game show in October — it was either after the St. Mirren or the Aberdeen game — where he made comparisons between Frimpong and Jimmy Johnstone, and I thought, "Hmm, where have I heard that before?" I honestly hope the lad recovers from the mugging against Kilmarnock and enjoys a successful career, mostly with Celtic.
Dear Simon Donnelly . . .
Twice during the season at the outset of Celtic TV broadcasts of games with noon start times, Simon Donnelly (I think, though it could have been Paul Cuddihy, too) gave a shout-out to the Los Angeles CSC for waking up at Oh-My-God-Thirty in the morning to watch Celtic.
While that's fine and it's great that we West Coasters get recognized for making the herculean effort of dragging out butts out of bed at around 3:30 a.m. to watch a noon kickoff in Scotland at 4 a.m. Pacific Time — and to be honest, it's the least we can do to watch a club like no other — fair play dictates that the bhoys and ghirls at the San Francisco CSC (of which I am one) deserve a shout-out as well, all of us watching on the big screen TV at an Irish pub called Fiddler's Green in suburban Millbrae, California.
So how about it, Celtic TV in the booth? When this all gets sorted out and we're back on track, the folks gathering for every Celtic game at Fiddler's Green could use a hat tip.
Now if you'll excuse me, it's time to watch the Celtic-Livi game from November 23rd.