My only regret about today's phenomenal game against St. Mirren is that it was merely a 6-0 victory for Celtic, and not a 24-0 win — the crew at The Celtic Noise will get that reference. I'll go into why later, but first let's look at some of the superlatives from today's game.
First, let me just leave the stat sheet here for your consideration as I walk away for a moment.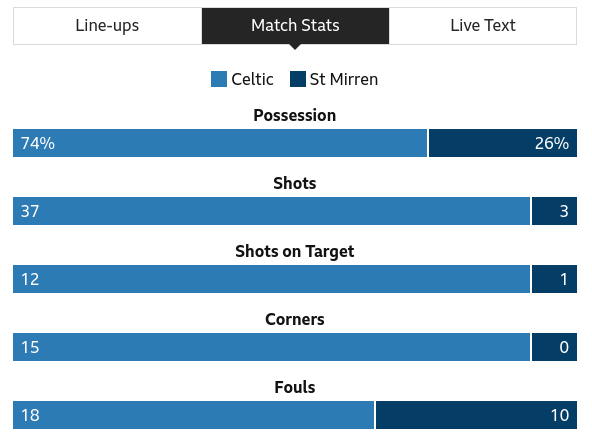 I'm back. Did you miss me?
While I don my Captain Obvious costume, let me state that Celtic was relentless on both sides of the ball today, and it would be safe to say that the Bhoys in Green are back. This is nothing new, of course, and it parrots every other Celtic pundit on the planet, where credit is rightfully given to new manager Ange Postecoglou.
An aside: When you think about it, with the success that Postecoglou has had invigorating the current Celtic roster — giving new life to Ryan Christie and Tom Rogic and others, combined with a mix of phenomenal new talent like Leil Abada and Kyogo Furuhashi — you have to wonder what he could have done with some of the players who left. Postecoglou could have made Patryk Klimala into the second coming of Robert Lewandowski.
But I digress.
In today's match, Abada was phenomenal and he's only 19. Abada can be a star for the future, and he's a treat to watch. David Turnbull? A mere hat trick does not justify the sheer tonnage of praise he deserves for his play today. Christie was all over the pitch playing like a man possessed, as was Greg Taylor. Odsonne Edouard? His body language spoke volumes about how he wants to play for the Hoops, despite what the former manager told the BBC earlier in the day.
Then there's a defense that shut down the Saints fairly remarkably for 90-plus minutes. Could Carl Starfelt finally be settling in while the rest of the backfield takes control? Possibly. Starfelt, Stephen Welsh and Anthony Ralston all pitched in to give Joe Hart a fairly easy day between the sticks.
The down side is that despite Furuhashi playing his usual high-octane game, he is starting to get his "introduction" to the goonish reality that makes Scottish football a worldwide disgrace. Fouled repeatedly, once off the ball midway in the first half he was flattened by a forgettable nobody in a St. Mirren kit. No foul in that particular instance, of course, and no goal for the lad today overall, but that's OK — daijobu desu, Kyogo-san — because just having the threat of his scoring leaves others open to do the deed in his place.
When he doesn't do it himself, that is, which he has and which he will. Remember where you heard it first.
All of which leads me to why the score should have been run up more against the Buddies — someone's buddies, but not necessarily mine.
There's Alan Power, the poster boy for the oft-waived SPFL player who has no discernible football skill other than to injure opposing players, and who will retire to bleak anonymity someday. Someday soon, and the sooner the better. Ever wonder how much better off the SPFL — hell, how much better off humanity — would be without Power in it?
I do. All the time.
No one was more surprised than me, gasping with mouth agape 5,000 miles away around sunrise, that Willie Collum actually found his red card and actually used it against Power for an assault on Turnbull that was a textbook red card.
Actually calling a legitimate foul on a Celtic opponent. Willie Collum. You don't see that every day. . . .
So I don't know what was said in the locker room at halftime, but if I were Postecoglou — and I have the sweaters and shirts, to be sure, but not the hair and beard (let alone the football knowledge, of course) — I would give the bhoys a green light to light up the scoreboard when the opposition pulls hammerthrowing nonsense like St. Mirren did on Saturday. Ring them up, and while 6-0 is a sure ringing, I would have preferred more — like a double-digit, talk-about-it-generations-from-now, song-inducing score.
OK, call me selfish.
But the fact remains that if we keep playing like this, whether it's in Holland on Thursday against AZ Alkmaar to wrap up the Europa League stage or at the Bigotdome against the Tribute Act next Sunday, the goals and the points will come.
Here we go again, we're on the road again . . .