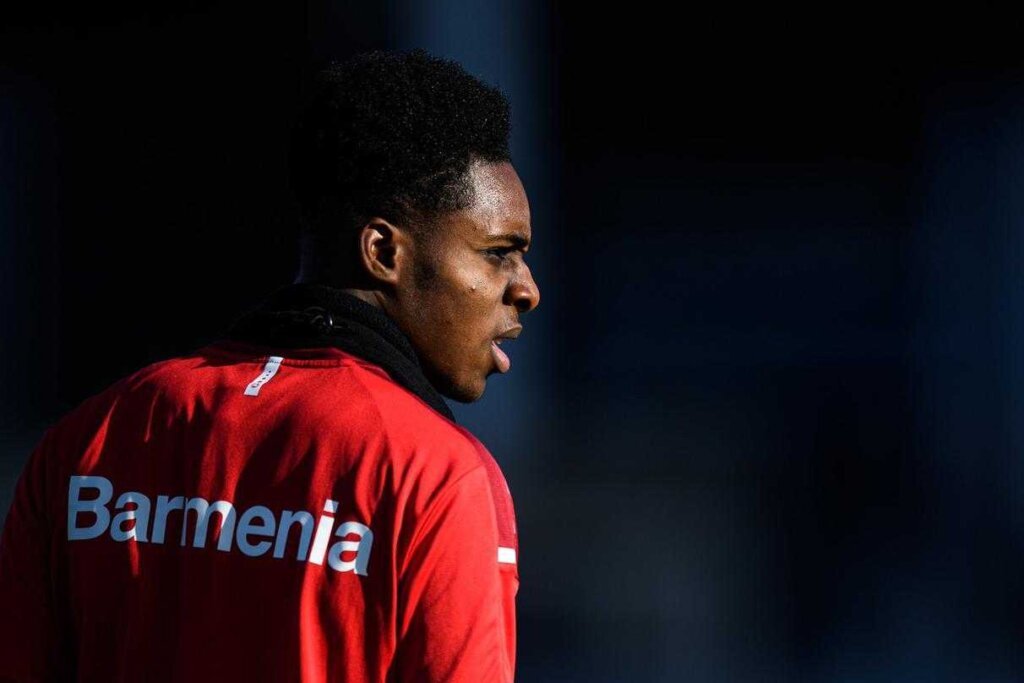 A recent article in The Athletic (subscription needed) outlines in great detail the reasons that Jeremie Frimpong has jumped ship from the cozy confines of playing for the Hoops at Celtic Park in Glasgow to donning the black-and-red and playing in the antiseptic Bay Arena in Westphalia.
The article is full of high-road plaudits and reasons for his departure. There's no doubt that Frimpong wants to play in a more prestigious league — he certainly has the talent to do so — and at his age, 20 at his last birthday, his entire football career is in front of him. Neil Lennon described him in a press conference as "ambitious."
Said Frimpong in the article, "It was the right time to leave Celtic because it was about a big club like Leverkusen coming, rather than about Celtic. And obviously the Bundesliga was really attractive. So when they came, I was like, 'I could play in the Bundesliga!', and that was it really."
Frimpong highlights that he wanted to play in the Bundesliga, which he calls correctly "one of the top three leagues in the world," and who can blame him?
But I think there's an unspoken reason for Frimpong leaving Celtic and saying goodbye to playing in the SPFL, and my guess is that most of it has to do with the latter.
Let's set the stage: In a league like the SPFL which has questionable officiating — where the referees' SpecSavers sponsorship has gone way beyond irony when multiple clear red-card fouls go uncalled — and in a league like the SPFL where hammerthrowing is the rule moreso than the exception, why would a player with a potential for greatness want to play in a leauge like the SPFL where a career-ending injury might be just one late tackle away?
My guess is that what is not being said as Frimpong takes the high road in interviews is that he had enough of the likes of Kilmarnock's Alan Power or Hibernian's Alex Gogic — two examples of several players in the league who serve no real purpose on the pitch other than to create mayhem and injure opponents. And frankly, Frimpong was right to go. I would have helped him pack his bags, too, because I would rather see him play for years, or decades, elsewhere rather than see his career cut short by a mouth-breathing neanderthal nobody in a Killie jersey.
For the same reason, Kieran Tierney — a kid who spent 2/3rds of his life in the Celtic organization — was absolutely and completely justified in taking the money Arsenal offered him to play at Emirates. It physically hurts to say that, but that is the truth. Tierney will always be a Celt, but why should he sacrifice his football career on the altar of poor officiating and unpenalized rough play that is part and parcel of the Scottish Premiership? Tierney himself had career-threatening injuries playing for Celtic — he didn't get them slipping and falling in his apartment — and he overcame them to both excel at Celtic toward the end of his career in Glasgow and to shine in North London, where he is showing the EPL the quality of the Celtic system.
And when Celtic has a poor transfer window because players are hesitant to come ply their trade in the SPFL? Are you really surprised quality players pass on us in an effort to avoid what has degenerated into a style of play in this league more resembling ice hockey than football?
Until the SFA gets a grip on more consistent officiating — consistent insofar as actually making calls instead of blowing them off, mostly for the benefit of one club (and it isn't Celtic) — and until the quality of play in the SPFL starts more resembling other respectable leagues around the world, quality players in the Hoops will always have an eye on playing elsewhere.