First things first: Celtic played a phenomenal game at Tannadice on Sunday against fourth-place Dundee United, winning 3-0 easily with phenomenal play from Tom Rogic, ballet-like moves by David Turnbull and new kid Liam Scales slotting one in to seal the deal.
What could have been potentially a nailbiter with key players missing — the absence of Anthony Ralston, Jota, and Stephen Welsh casting a shadow over the game — ended up being a classic show of Angeball.
The Bhoys in Green made fairly easy work of a club that — unlike, say, Livingston and their 10-0-0 formation — actually went out of their way to challenge Celtic on the pitch with a pressing style of play. While it's hard after a 3-0 defeat to heap glowing praise on Dundee United goalkeeper Benjamin Siegrist, he did play well to keep the score from being significantly higher; to say nothing of feeling completely awful for ex-Celt Charlie Mulgrew, now sadly toiling in obscurity for the Tangerines, who got beat so handily by Rogic on the first goal of the game.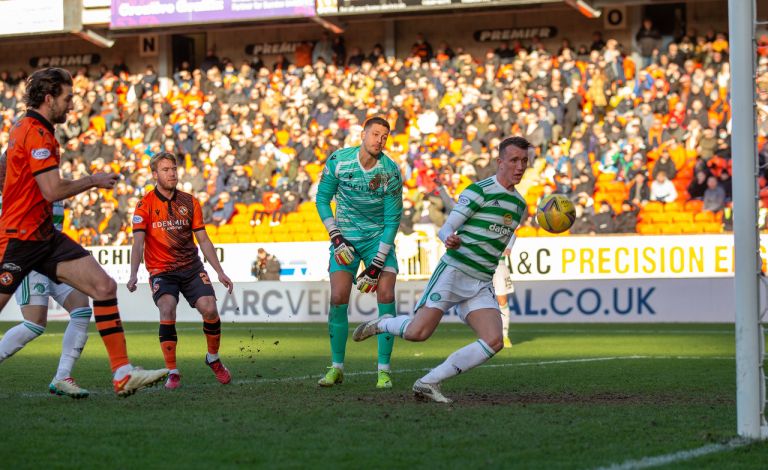 But . . .
You would think that the officiating would be its cutting edge sharpest in a match where all eyes were on the Men in Black, especially after the razor-thin margin of an offside goal for Celtic on Thursday had caused such a huge scandal in Scottish football.
Sadly, any semblance of objectivity or sharpness on the part of the officiating crew at Tannadice, or anywhere else throughout the league for that matter, was virtually non-existent.
On Sunday, three offside calls that weren't really offside — I guess that will show us. Countless fouls matching the non-calls on fouls.
And then there's the aptly named Callum Butcher. Butcher: Is there an any more appropriate name for a hammerthrowing nobody who immediately should have been red-carded for his spikes-up marking of David Turnbull?
No doubt the Scottish Football Association's Crawford Allen will have a busy week going round all the media outlets telling us why Butcher didn't get a red card and why his linesmen had countless incorrect decisions against Celtic on Sunday, just like he did this past week after Kyogo Furuhashi's goal against Heart of Maddenlothian . . . sorry, Heart of Midlothian.
Wait. Who am I trying to fool?
So, while I'm pleased with the results against Dundee United on Sunday, pleased with how Ange Postecoglou and the coaching staff arranged the limited personnel, and reassured by the uptempo style of play which makes us the team to beat in the Scottish Premiership, I don't want to get complacent with our treatment by the officials, which is nothing short of abhorrent and, as the rest of the world outside Scotland sees it, hypocritical.
As such, it's easy to take our foot off the gas — rhetorically speaking — when it comes to the malfeasance on the part of the officiating crew. This is where I think we should keep on it. Keep pointing out the errors, keep pointing out the injustices. Some might say, "Well, it has always been this way," and that may be. But it doesn't mean we have to accept it.
Call it out. Early and often. Every time it happens.
One more thing
Two, actually.
First: Ghirls will be ghirls.
The Ghirls in Green won their first piece of silverware in a decade — the Scottish Women's Premier League Cup on Sunday, dragging out a 1-0 victory over perennial women's power Glasgow City. Fran Alonso has really gotten the women's team to fire on all cylinders this season, and it's good to see that he's getting results. Congrats, ghirls!
Second thing: Why isn't Tom Rogic ever in any of the Celtic Christmas videos?
Anyway, we have the fascists from Real Betis visiting Celtic Park in a Europa League match on Thursday. It might be a good time to give some of the bhoys a rest and let the kids take the stage, so to speak.
Anyway, Mon the Hoops!