Let's not sugarcoat this: Celtic's win against St. Mirren on Wednesday was not one of those games that will live on in Celtic lore. Actually, it is one of those grind-it-out affairs that borders on painful. But in the end, we get the three points in the 2-1 victory and come away with a win in one of those games that will be easily forgotten over time.
But didn't the away kit look good on the bhoys?
After gifting the Saints a 1-0 lead just after the two minute mark, the Celts answered with goals by Shane Duffy at 21 minutes and then James Forrest at 36.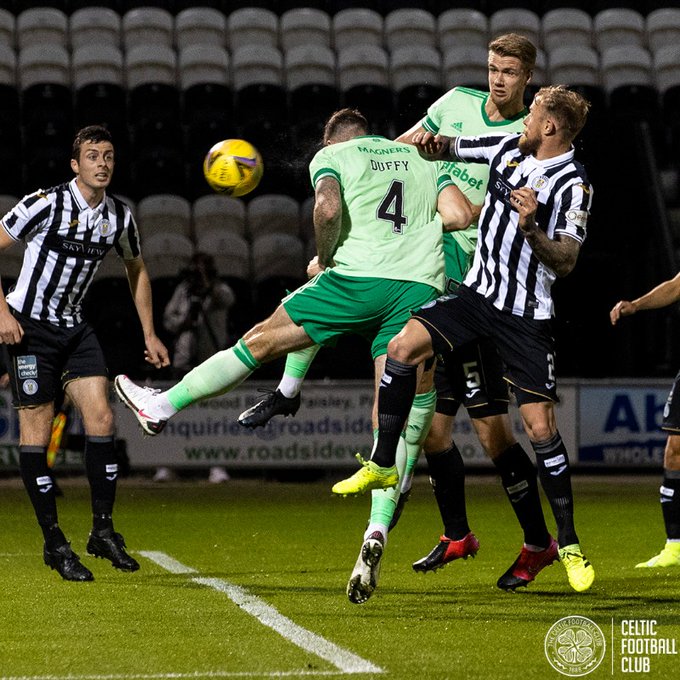 There's only one real takeaway, and that can be described in two words: Shane Duffy. The man's a one-man wrecking crew against Celtic opponents, and clearly the best acquisition in this transfer window. The way he's been playing so far — two games, but still — has been completely flawless, and we now have an additional aerial threat to join Christopher Jullien in set pieces in the box, to say nothing of an additional scoring threat from the back.
Forrest, who has been the target of a plethora of armchair gaffers that populate social media, took a Ryan Christie cross to the forehead to put Celtic ahead. Speaking of Christie, I have to wonder why he didn't take the penalty in the 2nd half, but never mind. Odsonne Edouard should have delivered, but what's done is done, and there are three points in the standings.
As always, every silver lining of a Celtic win has to have its cloud for some people. Greg Taylor, who did not have a great game on Wednesday, was the scapegoat du jour in an otherwise nondescript game where St. Mirren, with a handful of exceptions, concentrated on playing everyone back. This would explain the number of passes back and a somewhat impenetrable defense. Never mind the mobility going forward of both Duffy and Kris Ajer, who were all over the field. Rather than dwell on positives, let's focus on the negatives, shall we?
And the hue and cry when Neil Lennon took out Edouard and replaced him with Olivier Ntcham? Horrors! It's a wonder — a modern miracle — that we actually won, if you listen to some people who presumably have 3-5-2 tattooed on them somewhere. But folks, here's how that happened: The bhoys played their standard issue possession game and scored more than their opponents. It's not flashy. But it gets the job done. And if that's how Celtic wins 10 in a row — with a whimper instead of a bang — then OK.
One more thing
As I'm noticing an uptick in the tsunami of stupid that comes across social media regarding Celtic, I think I'm going to start just blocking people rather than waste my time discussing their hair-on-fire panic points. There's a saying that's popular here in the South — "Never teach a pig to sing. It wastes your time and it annoys the pig." So I don't care if you're a season ticket holder since 1888 and have been to every game ever since you got your first tickets personally from Brother Walfrid, if you say something slagging the club, you're blocked. End of.
On to Saturday against Livi at Celtic Park. Mon the Hoops!