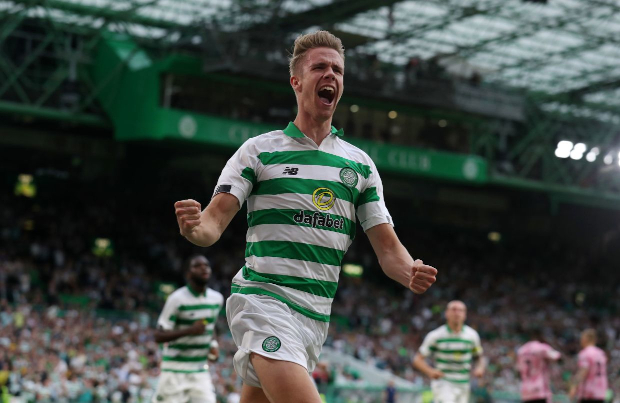 To be honest, I've purposely been avoiding the "someday-we-will-all-laugh-about-this" saga of bringing in new manager Ange Postecoglou because, well, I am protecting what little sanity I may have left. But also being honest here, I have to admit it's unfortunate that we're releasing Kris Ajer into the wild, where he can flourish in a league beyond Scotland.
You can't fault him for wanting to go. Accoring to various news reports, he committed to stay on for the 10 — despite a former agent who said otherwise — and played his heart out for the Hoops in a disastrous season. He even spent most (if not all) of his Celtic career playing out of his natural position, a midfielder playing center-back for Celtic. Not only this, he played out of position without complaint, and sharpened his defensive skills in the process.
So while I wish he'd stay — just as I wish those who are also slated to leave this summer would stay — I completely understand why he would go. The thing is, I hope he ends up with a club that can utilize his wide range of talents best.
It's not like he hasn't drawn attention already. All season we've read reports about AC Milan being interested in Ajer, and lately he's been tied to Norwich City and Newcastle in the EPL, and Bayer Leverkusen in the Bundesliga.
Kris, if you're reading this, go ahead and join Jeremie Frimpong at Bayer Leverkusen. Rather than join a couple of EPL backmarkers, Bayer Leverkusen has a fair amount of potential for success.
As with other Celts who have punched their tickets in Glasgow and have moved on, I wish Kris Ajer all the best and will be looking in on him from time to time. Naturally, I will miss the big Norwegian's gazelle-like stride when taking the ball up the field further than a defender should, resulting in the occasional goal, but I know it's for the best. Lykke til, Kris!
One more thing
Speaking of former Celts, it's worth mentioning that Manny Perez, a Celtic who never made it to the big club, is now playing for the expansion team Austin FC in America's Major League Soccer. Perez also took the time to help Garner (North Carolina) High School's soccer team with new kits for next season. Perez is not a star with Austin, but he doesn't forget his roots and the purchase of the kits for the high school's varsity and junior varsity teams is a grand gesture. Way to go, Manny!
Also, before we part, if you're a Celtic fan and you're not following @lfmunro on Twitter, you should. This profoundly deaf Celtic fan has a series of videos instructing people on sign language — some football-related and some not — and they're well worth a watch to learn. Fantastic work, Lou, and keep it up!
Now to add "Postecoglou" to my spell-check list so it doesn't keep popping up as an error . . .
Hail hail, all!