To read some banter on social media about the 2-1 win on Saturday at Celtic Park against Motherhell — sorry, Motherwell — you would think that the club should staff the battle stations and fix monumental problems that afflict the Hoops.
The "Moan the Hoops" Brigade always weighs in — always — with the most ridiculous assessments that makes the real fans of Celtic thank every diety imaginable that these folks are nowhere close to the decision-making for the club.
Items like, "Joe Hart is done." Bzzzzzz. Wrong answer. Not by a long shot. He's the best goalkeeper in the SPFL, way out in front of the distant second-place finisher who happens to sit on our bench. Namely, Ben Seigrist.
Then there's the Josip Juranovic "overrated" chorus, simply because a miscommunication cost the Bhoys an own-goal against Motherwell, which in retrospect is meaningless because — adjusts glasses, check notes — we won the game. Juranovic is a quality player good enough to start for his national team and clearly good enough to start for Celtic. Despite Saturday's miscue, his jersey fits.
While we wait for both Cameron Carter-Vickers and Carl Starfelt to come back from injury, we are indeed fortunate to have a player like Moritz Jenz picking up the slack and playing admirably. But praise for Jenz and great play by other Bhoys — and again, anyone care to pick apart Greg Taylor? — is a rarity under the crushing tsunami of whining and moaning so prevalent with the online fanbase.
It's enough to make #MoanTheHoops a recurring hashtag.
But never mind all that. The biggest problem that Celtic faces going forward, the one that Celtic must address and address now, is this:

Yes, Reo Hatate's mouthpiece is — gasp! — blue. Like . . . you know, them.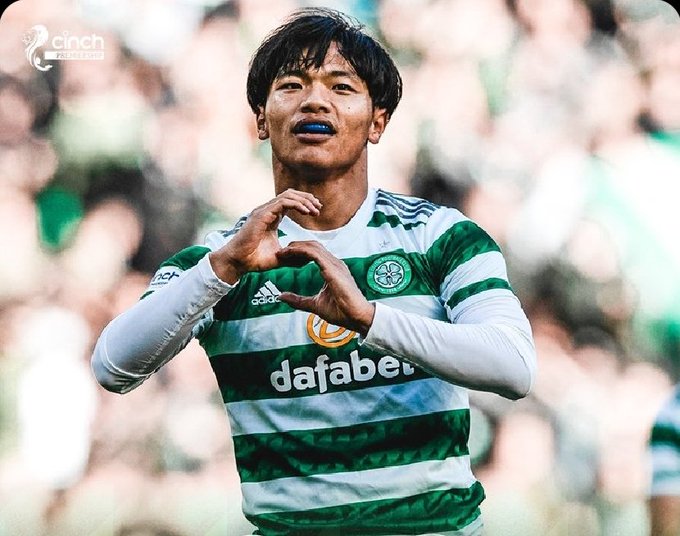 But let's look at the big picture, shall we?
Hatate came from Kawasaki Frontale in the J-League, which uses blue as a primary color in their home kit makeup. In addition, as a member of the Japan National Team (though arguably not utilized to his full potential there), their home kit is also blue. Also, if you're paying attention to international football, the team is referred to as the "Samurai Blue."
To say nothing of the fact that it could just be a superstition that Hatate uses that particular mouthpiece, or that particular color anyway. Athletes are a superstitious bunch, some moreso than others, some of whom have rituals and wear items that have special meaning to them.
Michael Jordan used to wear his University of North Carolina basketball shorts under his Chicago Bulls uniform, and it didn't seem to affect his performance while becoming the best basketball player ever. Tiger Woods always wore red shirts on Sundays in golf tournament play in honor of his alma mater, Stanford. Don't even get me started on the playoff beard phenomenon in the NHL in North America, where hockey players on playoff teams stop shaving until they win, or are eliminated from, the Stanley Cup.
You don't have to be an athlete to partake in the superstition madness. For example — and in a complete admission of Too Much Information™ — since I started following Celtic in 2017, I have worn a special green undershirt and green boxer shorts on game day under my Celtic jersey and trousers whenever I watch the Bhoys play. Even at work, I wear my Celtic jersey under my work shirt, which gets a lot of interesting looks from people.
I don't care.
And the truth can now be told: It was completely my fault that Celtic lost to St. Mirren two weeks ago, as while getting ready to go to work that morning, I noticed that my Celtic boxers were in the hamper and not on my body.
Forgive me, Brother Walfrid.
So quite possibly Hatate scored a hat trick at Frontale while wearing that blue mouthpiece and doesn't want to part with it. Or he has some other attachment to the mouthpiece.
The fact that he even has to wear a mouthpiece playing in the SPFL speaks volumes to the hammerthrowing the league is known for worldwide, and of which the league should be unequivocally ashamed.
But even then: The fact of the matter is it's not anyone's business what Hatate puts in his mouth.
Daijobu desu, Reo-kun.
One more thing
O Captain, my Captain: Several post-game observations, even one by Ange Postecoglou, had the red card on captain Callum McGregor as preventable because Stephen Welsh was close enough to defend.
That's not how I saw it, and far be it from me to disagree with the gaffer. But there's no way that Welsh is making it to help an out-of-place Joe Hart to defend against the misplayed gift given to Motherhell's Ross Tierney. Not even if Welsh was on a rocket sled.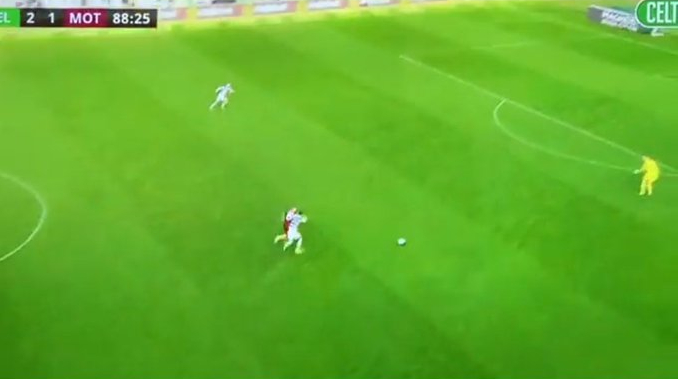 McGregor clearly, albeit unfortunately, did the right thing in that foul, falling on his sword to save what could have been the tying goal.
And surprisingly, John Beaton — positively without question or debate the absolute worst referee in the known universe, who proved his incompetence consistently during the match, missing a clear hand ball in the Motherwell box by a Motherwell player already on a yellow — got the call right.
Thank you, Callum, for your sacrifice. You essentially saved the game.
We've got Red Bull Leipzig in Germany on Wednesday — more Champions League play — and while my union goes on strike on Monday, hopefully it will last until at least Wednesday so I can watch the game at home. Mon the Hoops!