Forgive me for repeating this theme from a past blog post from a while ago, but once again it has come up in the most annoying manner. A perfect example of this was during the first half of Wednesday's game at Celtic Park against St. Mirren, when you had the usual Greek chorus of whiners and moaners acting as if they were climbing to the highest building in Glasgow, ready to throw themselves off.
Let me be clear: Not everyone who follows Celtic falls into the category of the Moan the Hoops Brigade.
Thank God.
But you know who you are, and Witchy speaks for me here:

Before I start, let me interject a personal social-media aside: If you were to do a pie chart of the people I have blocked on Twitter, you'd have more than half a pie's worth of Celtic "fans" who constantly bitch and moan, regardless of the outcome, and/or who say stupid things about either players or the club. I'm not your babysitter, and I'm not the nimrod whisperer.
To me, blocking people who claim to support the same club is sad. A club like Celtic should always be held to a higher standard, and I don't think it's too much to expect Celtic fans posting on social media to not act like privileged, spoiled children who expect flawless performances and 5-0 victories every time the Bhoys take the pitch.
And I get it. That's way too much to ask of people on social media, I know, despite the fact that such infantile behavior should be reserved for supporters of lesser clubs. Like, oh I don't know, Sevco comes immediately to mind.
But still, it begs the following question to these Celtic "fans."
"Faithful through and through" are not just four words. They are a way of life. So if you insist on moaning and greeting halfway through a game in which Celtic ultimately prevails, what the actual fuck is wrong with you?
Earlier in the season, people were slagging Greg Taylor. Well, Taylor's doing pretty well as of late — not that he wasn't before. Was he stellar? No. Is he now? Not really. But has he gotten — and does he now get — the job done? Absolutely.
Then the boo-birds focused on Carl Starfelt. Admittedly, Starfelt took a little more time than usual to get his footing in the hammerthrowing realm of the SPFL, but he has since grown into the role he's been given in the Celtic defense. But now every time Starfelt makes a mistake, there's a phenomenal hue and cry about him being a "bombscare."
These folks have short memories. We won a treble with Jeremy Toljan starting for a good part of that season in defense.
Jeremy Toljan. So when you're complaining about Celtic's defense, which statistically one of the best in the SPFL this season, you might want to keep that in mind.
Then after even more blocks on Twitter, it seems that the Moan the Hoops Brigade has now started to focus on Daizen Maeda. To be honest, I haven't seen this, but I have seen replies to posts I can't see (since the original poster is blocked) defending Maeda from what can best be described as faulty analysis.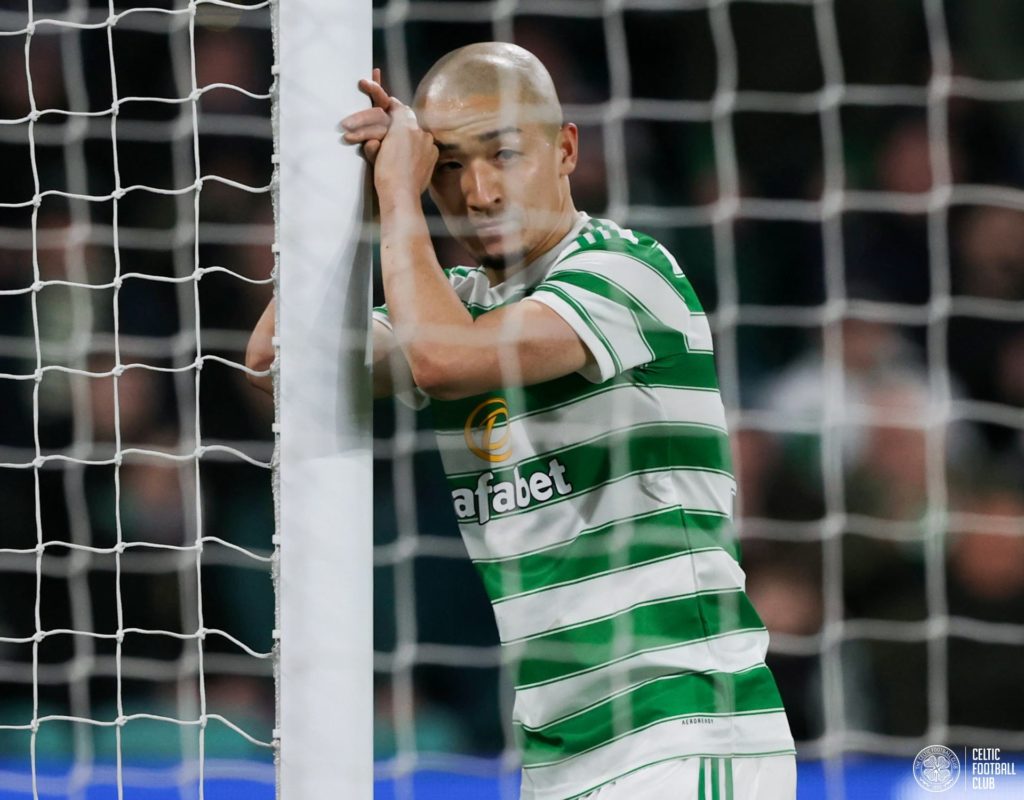 Common sense dictates that you can't score if you don't get the ball, and with the exception of one pass against St. Mirren on Wednesday, Maeda's not really getting good opportunities to score like he did earlier in the season. Chances are this situation will correct itself with time, but you'd never know it listening to some offering their misguided opinions.
Celtic already faces standard issue and unjust hurdles in its everyday existence. There's an unobjective sports media in Scotland — mere stenographers masquerading as journalists — that consistently paints the club in a false light, regardless of the club's performance. There's a corps of SPFL referees, unironically sponsored by SpecSavers, who consistently make "honest mistakes" that hamstring the club's performance; the same referees who give their cross-town rival every advantage imaginable.
As if that isn't enough, do you really want to add to the mix the nonsense from the Moan the Hoops Brigade?
Despite having to play an entire league of clubs who would just as soon "park the bus" and play, like Livingston, some variation of a 10-0-0 formation where opposing players essentially put out lawn chairs in their half of the pitch, Celtic still leads the league by three points.
Apparently, that's not good enough for some.
It's a classic dichotomy: I'm more than proud to be a Celtic fan, but at the same time I'm also more than ashamed by some of the shitbaggery proffered by some who claim to love the club.
One more thing
How good ideas go south, and quickly: Apparently, it seems that the Australians are setting up for a train wreck by having Celtic and Sevco play this November in a tournament in Sydney, in what's being billed as the Sydney Super Cup.
We know how Sevco fans travel and acts at road games. History is pretty clear there, and in fact they're called Huns for exactly their past behavior. So why they're being included in this tournament when they could have easily included another club — and choices could have been Ange Postecoglou's former club, Yokohama F Marinos in Japan, or maybe even the best of Australia's lower division — is a complete mystery.
Let's hope the Sydney riot squad is on top of their game when the scum of the earth visit later this year.
Mon (not Moan) the Hoops.